Rode Bros
Franklin Report Profile

RODE BROS.

Design, furnish, install, and finish high end custom hardwood flooring for residential and commercial applications.

Since 1930 Rode Bros. has been one of the leading custom hardwood flooring companies in the country. Working closely with architects, designers, contractors, and homeowners we assist our clients in creating the optimum look for their needs. We also specialize in producing the desired unique color for each project.

 







Rode Bros. continues to provide custom wood flooring for upscale residences across the United States and abroad. Our client list includes many prominent individuals in all areas of industry and
the arts.








Commercially we are prepared to embark on any type of project. Some of our commerical jobs include the renovation of The Getty Museum, The Palms Hotel in Las Vegas, City Center Las Vegas, The White House, The Bernadus Lodge in Carmel Valley, The Queens Royal Summer Palace in Thailand, The US Embassy in Mexico City and Nordstroms in Costa Mesa.




Rode Bros.

300 W. Grand Ave
Chicago, IL 60654

773-398-8758
| | | | | |
| --- | --- | --- | --- | --- |
| Chicago | Los Angeles | San Francisco | Las Vegas | Honolulu |
Click here to vist Rode Bros at the Franklin Report.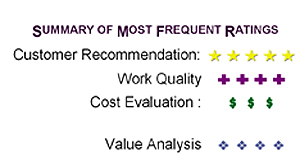 Services and Specialities:
Hardwood design, installation and service
Summary Of Comments:
A familiar and trusted name in the flooring industry, Rode Bros. has been in business since 1930, specializing in hardwood design (including inlays), installation and restoration. With a mostly residential clientele, the company's range covers Chicago, Illinois, Wisconsin, Minneapolis, Michigan, Indiana, New York City, Florida, and the East Coast. But the firm can also claim some pretty impressive commercial jobs, including floors in the White House's Oval Office, the J. Paul Getty Museum in Malibu and the Reagan and Nixon presidential libraries. The firm is also a top choice of hoteliers in Las Vegas, where it has laid floors in the Paris, Caesar's Palace, Wynn and Bellagio Hotels. Pricing is generally by the square foot. Rode Bros. has offices and showrooms in Los Angeles, San Francisco, Chicago, and Las Vegas, and even operates world wide including Asia, Europe, the Middle East, and Russia.

Client Comments:
"Service oriented. Very friendly." "Great installation and inlay work." "One of the more reliable flooring contractors." "Gets the job done with minimum fuss in a timely fashion"
View Rode Bros on ABC 7 (starts at 2:45)
PRODUCTS FEATURED ON ABC 7
Sustainable Flooring
Flooring made of Guinness Beer vats and wine casks
Price: Varies
Manufacturer: Rode Bros and others
Where to buy: Rode Bros Hardwood Floors www.rodebrothers.c

Features:

Sustainable, reclaimed fSC Certified and Green products Examples:

100 year old Guinness vats imported from Dublin
Vintage red wine barrels

Other specifications:

Rode Bros has designed, fabricated and installed floors for the grand interiors of
spaces like the White House and the Getty Museum as well as cozier interiors
of homes and offices.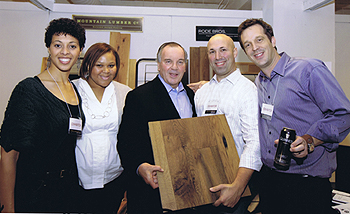 Mayor Daley stops by Rode Bros to check out wood
flooring made from 100 year old Recycled Wooden Guinness Beer Vats.
(Imported from Dublin)